Home Interior
Dec 07, 2022
Things to Consider while Planning a Renovation: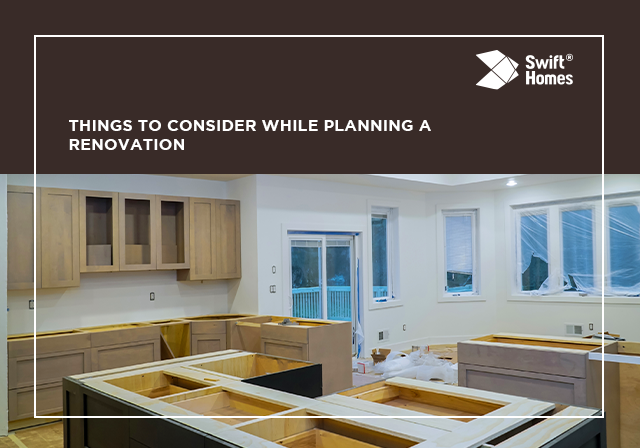 "Old is gold," they say, but not always! Let's talk about homes for example! An old home might look aesthetic and grand at the first glance. But the chinks start to appear soon after you start living in the house.Old- fashioned homes come with their own set of drawbacks when it comes to maintenance.
The maintenance, the utility, and the wear and tear can get overwhelming right from the word go. At a certain point of time you realise that your amenities do not meet your growing family's needs. Although home renovation is a cumbersome affair that calls for a lot of resources, upgrading it with the latest facilities is always a right decision to make.The home renovation process is a very extensive job to do because you are not starting with a blank slate.
The first step for home renovation is the assessment of your house. This includes the foundation, the roof, electrical and plumbing points, flooring, windows and other elements. You may find if you need some changes or need to demolish anything, and replace or rebuild them altogether. Your budget will be largely determined by this first step.
Depending on what you want to change in the house, planning becomes one of the important aspects of the renovation. We at Swift Homes would suggest you seek professional help to ensure a high quality renovation of your home that is in line with the contemporary style. Swift Homes have a team of experts who have mastered the art of interior designing over the period of time. Our team is well experienced in their field and have designed innumerable spaces till date.
When you hire an architect for renovation, he will begin the process by assessing your requirements and then plan a strategy accordingly. Planning is not just the design or look but much more beyond that and not to forget its implementation takes time.
Also the plan entirely depends on the budget you want to put in. It is important to remember that you should never overestimate your budget but keep it underestimated and then move on to buying things you need. So that you can limit things to that budget only.
Renovating your house means to declutter and maximise the storage as well. If you are considering the renovation of your Kitchen, utilising its space to its maximum capacity can help you minimise your storage problems. No one knows your kitchen space as much as you do. Therefore it is important to set your preferences right before meeting the interior designer.
Research is fundamental in renovation. It helps you decide how you want to do the things, what you need to buy and how much you will be spending. But, it is even more important to do your renovation within your budget and according to your preferences.
Floor renovation is essential for the overall home renovation, but it may appear too expensive to pull off. Swift Homes has some great collections of flooring which can add the overall aesthetics of your home. So if you plan any floor renovation we have everything you will be needing throughout the renovation.
Home renovation could be a challenging project to undertake, however, it can get easier if you have plans and resources available in advance.
Therefore if you want to have any kind of architectural or designing service while planning a renovation by Swift Homes please feel free to reach out through our toll free numbers or by visiting our studios. We have three home decor studios located in Nai-Basti Anantnag, along KP Road in Anantnag, and in the main town of Shopian of South Kashmir. We would love to host you!