Discounts galore, at Swift Homes!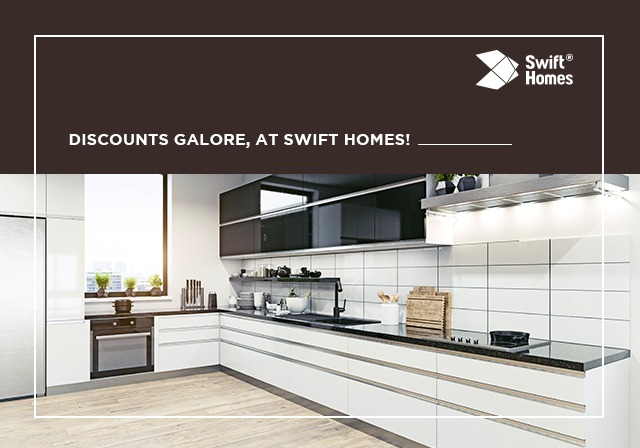 Swift Homes has carved a space for itself, by being a place where you can find almost everything when it comes to home decor! And that is the reason we call our showrooms – located across south Kashmir – the home decor studios.
Having an exquisite inventory of the most wonderful and innovative home solutions does not stop us from being affordable. Every product at Swift Homes is not only top-notch in its category but is also priced in a way that does not burn a hole in your pocket.
And in addition to that, we come up with regular discounts on different home decor essentials, from time to time. In today's blog, we will get you acquainted with some of our best discount offers going on at Swift Homes.
20% off on Appliances:
Appliances are the most widely purchased products, given how easy they make our lives. Swift Homes has the widest range of home appliances in our inventory, and presently we are providing a 20% discount on all our appliances. 
This is a limited time offer. So if you have been planning to buy microwave ovens, gas tops, or any other appliance – now is the time to do so. Give you homes the much-needed upgrade and make your life easier.
35% off on Cabinet Handles:
Cabinet Handles are the most vigorously used, and face the maximum wear and tear in our homes. A cursory look in our homes will tell us how badly the cabinet handles need attention, or need to be changed altogether.
Keeping the frequent use and the subsequent wear and tear of these handles in mind, we are offering a 35% discount on all of our cabinet handles. The heavy discount will make you change the handles, instead of just mending them. Avail the discount now!
20% off on Wallpapers:
Wallpapers have been a great innovation. Time saving and long lasting wallpapers have replaced the cumbersome and maintenance heavy paints in our homes. 
Swift Homes has the largest inventory of wallpapers, including self-pasting, the 3D and the 5D wallpapers among others.
So, if you have been thinking to revamp your walls, now is the time. The 20% discount on wallpapers is not one to let go off. Hurry up!
20% discount on Laminates:
Laminates are other widely used material in our homes these days. The waterproof and low on maintenance laminates can be used in any corner of our homes, including the moisture prone areas as well. 
Winters are round the corner and the moisture can be lethal in winters vis-a-vis our home decor. This is the time when you can avail the discounts and make your renovation and/or home building easy and affordable. Choose from the widest range of laminates at Swift Homes, and get a 20% discount on every laminate purchased.
65% discount on Kitchens:
We have deliberately kept this best offer for the last, because you have been patiently reading through the blog and deserve a treat.
Get a 65% discount on kitchens at Swift Homes. This is once in a lifetime offer and won't last long. Get your renovation done now, before this offer expires. 
In case you need more information about the offers, you call call us on our toll-free number. You can text us on any of the social media platforms – we will be pleased to help you through.
Or better still, you can drop by to any of our home decor studios located in Nai Basti Anantnag, along K P Road in Anantnag, and Shopian town of South Kashmir. Our customer case champions will be eager and pleased to assist you through.