Important things to keep in mind before selecting and buying wallpapers!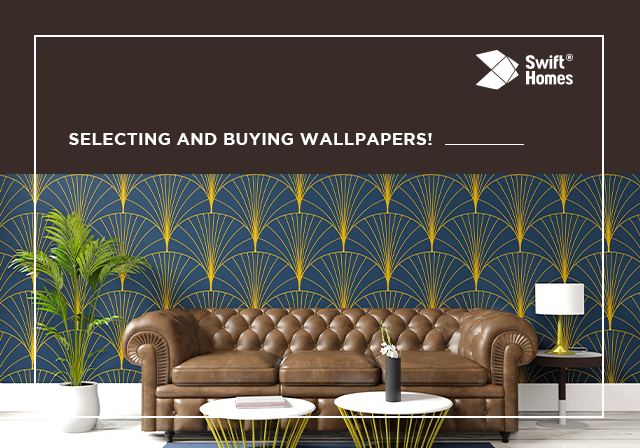 Wallpapers have been a huge transformation to the way we look at home decor. They are hassle-free, easy to apply, and add an elegant touch to our home decor, overall.
Besides, wallpapers are long-lasting. However, there are certain things that we need to keep into consideration before we set out to buy and add wallpapers to our home.
We at Swift Homes have long expertise in wallpapers, for the simple reason that we have been dealing in wallpapers for quite a while now. We know the ins and the outs of this particular form of decorating our walls.
So, through this blog today we will be piling up some important points to be kept into consideration while we buy wallpapers.
Do not buy before you try! Well, it does seem a little obvious but we often tend to forget that our imagination often runs short of what our home decor will look like in reality. So it is always advisable to get a sample first and try it, before you decide on wallpaper and paste it.
Another addition to this will be keeping in consideration the windows, and the doors to your room. You do not want a mismatch with your wallpapers, they should gel with the other things in the room effortlessly.
The colors, patterns, and texture of the wallpaper are important things. You should consider all the available options before you choose your wallpaper for sometimes even the simplest of designs can look the most elegant. Never rule out any option.
Always keep in mind the dust, the sunlight, and other wear and tear your room does or might go through. We will suggest that you should never overlook the washability factor of the wallpapers. It is always good if you can wipe it down clean with a damp cloth, at least. That will not only keep your room clean but will also enhance the life of the wallpaper.
Look at your room keenly, before you set out to past the wallpaper! If there are any cracks, fill them before you paste the wallpaper. Simple put, do not paste the wallpaper over a crack or it will tear open in due time.
Always use lining paper over the edges! Not only will it enhance the longevity of the wallpaper by closing out its edges, but it will also add a different allure to the overall ambiance of the room.
Pay some attention to the pasting process as well. A lot depends on what kind of glue is used to paste the wallpaper – in terms of whether it will fit perfectly and how long the paste is going to keep it clung to the walls. Choose wisely, and do not be tempted with cheap glues.
Lastly, it is not always necessary that you cover every inch of the walls with wallpaper. You can leave some spaces as they are, or in fact a whole wall. Get creative and find the right balance in your home decor, after all, it is your home!
Swift Homes, for almost two decades, has been dealing in the best of the wallpapers abvailaible not only in the Indian markets but globally as well. And we have wallpaper experts with more or less that much experience in the pasting and upkeep of the wallpapers.
You can drop into any of our home decor studios in Nai Basti Anantnag, K P Road Anantnag, and Shopian to check our endless inventory of wallpapers for yourself. Or, in case you do not have the time, you can call us on our toll-free number and our home decor experts will guide you through.
We are active over all the social media platforms and you can reach us there as well.