Choosing a cabinet colour for your kitchen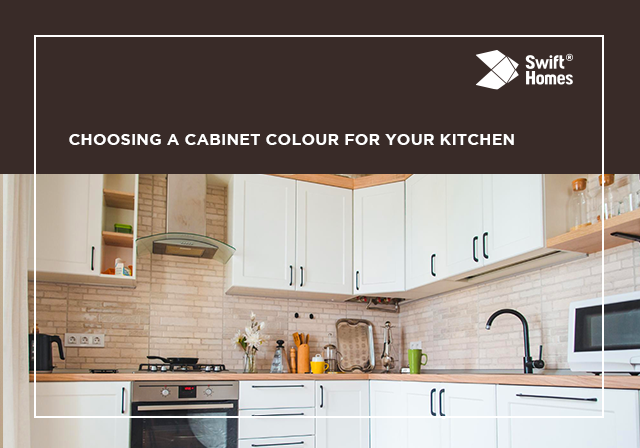 Choosing the right colour combination for your kitchen is one of the toughest decisions to make because it enhances the overall look of your kitchen.Depending on the style and your persona you can choose either uplifting,calming or energising colours.
Your style and the colour of the kitchen will determine its cabinet colour.Also the colour will depend on the amount of light in the kitchen, be it natural or artificial light. So do not consider dark colour cabinets if your kitchen has less amount of light. Another important thing is whether you want a customized or ready-made cabinet for your kitchen.
We at Swift Homes have a team of expert designers who have mastered the art of designing over the years.You don't have to run around the market to fetch things while designing your kitchen,we have everything you need under a single roof.While designing kitchen space we always consider the style and requirements of our clients.We at Swift Homes imbibe your style and desires into the designs that reflect your personality.
To begin with whether you want to go for trending colours or the classic colour combinations,consider two- tone colour combinations to make one of the colours stand out from the rest.In order to maintain the adequate amount of light in the room, opt for a brighter colour on the upper cupboards
Then comes the classic white colour which is considered to be the most timeless cabinet colour of all times.The white colour will make the kitchen look bright and well lit.Also white colour can be complemented with wood or any other neutral colour in order to add sophistication to the kitchen space.
Blue represents calmness that creates a beautiful and relaxing ambiance. With innumerable colours for kitchen cabinets to choose from, with blue colour you can set the vibe you want. Also remember that blue kitchen cabinets pair well with white and sandy tones,therefore consider this colour scheme while designing your kitchen.
Fresh and serene, green is one of the beautiful hues to be considered for kitchen cabinets.The colour green can revitalize your kitchen cabinets.If you prefer toned-down and neutral interiors, you can opt for a subtle look with dark green and charcoal, olive and beige, or mint and off-white.
Like green, yellow tone is such a lively colour for home. Mustard or lemon colour kitchen cabinets are sure to make your space feel brighter and relaxing. When selecting bold colours for kitchen cabinets, like yellow, we at Swift Homes would suggest you take a look at a few samples before finalizing it. The colour tone varies from space to space depending on the amount of light.Pair bright cupboards with grey or white.
If you like colourful surroundings and have a backsplash, make the maximum use out of it.You can put together different colours yet make everything look elegant with some expert guidance.Adding colours to your kitchen space with contrasting and complementary colours can bring out the best.Choosing bright colours for your kitchen is a bold decision to make but we at Swift Homes can help you to choose the best colour combinations for your kitchen for experts have mastered this art.
If you are a minimalist then go for matte finish cabinets with wood countertops to add to the aesthetics of your kitchen space.The pastel colour cabinets make your kitchen space look warm and uplifting.This combination brings all the things in the kitchen together and present an appealing look.
Another option can be painting your cabinets.You can paint your cabinets with a darker shade of matte finish paint with a pop of light shade in the background.To make your ideal shade work for your space you will need expert guidance and our experts at Swift Homes have mastered this art.
Consider the above-mentioned tips while choosing your kitchen cabinets under the guidance of experts at Swift Homes.
We are sure you have other questions regarding the colour combinations of kitchen cabinets.Feel free to call us on our toll-free number, or visit us. We have three home decor studios located in Nai-Basti Anantnag, along KP Road in Anantnag, and in the main town of Shopian of South Kashmir. We would love to host you!