Home Interior
Oct 06, 2023
Transitioning Your Summer Interior Design to Cozy Autumn Vibes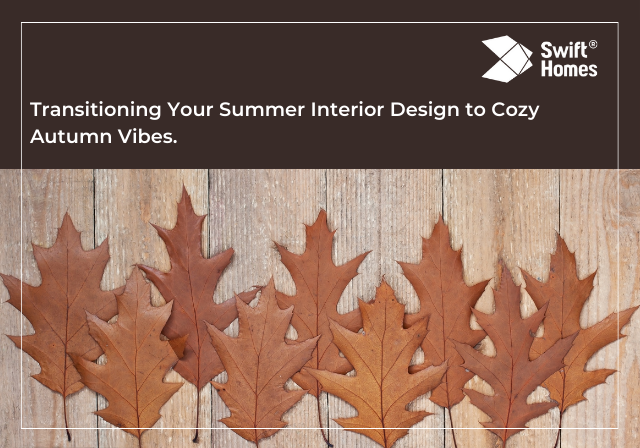 The trees that were green in the summer are now filled with fiery red and orange leaves. The air carries a hint of woodsmoke, and the cosy promise of noon chai and freshly baked Kashmiri bread fills the room. It's a season of transition, a symphony of colours, and an invitation to transform your summer decor, making your home just as magical as the autumn landscape beyond your window.
In this blog post, we'll explore some creative and culturally inspired ideas to make your Kashmiri home feel cosy and inviting for autumn.
Embrace Rich Colours:
Kashmir's autumn is famous for its stunning display of colours, as the chinar trees turn fiery red and orange. To reflect this natural beauty indoors, start by swapping out the bright and airy summer colours for a rich and earthy palette. Consider incorporating deep reds, burnt oranges, and warm browns into your home decor. These colours evoke the cosy feeling of autumn and create an instant transformation.
Kashmiri Carpets and Rugs:
Kashmir is renowned for its exquisite handmade carpets and rugs. To transition your home to autumn, replace lightweight summer rugs with plush Kashmiri woollen carpets. These carpets not only add warmth but also showcase intricate designs and patterns that celebrate the local craftsmanship. Adding Kashmiri rugs with beautiful paisley patterns, called 'Namda,' can make your home look really nice in the fall.
Cosy Textiles:
As temperatures drop, it's time to introduce cosy textiles to your living spaces. Swap out lightweight summer curtains for heavy, textured drapes in autumnal colours. Layering is key to creating a snug atmosphere, so drape warm, intricately embroidered Kashmiri crewal textiles in your room.  To make your decor feel more genuine, you can also use mink blankets and throw pillows made of velvet or faux fur. These additions will make your home feel inviting and true to the autumn atmosphere.
Autumnal Accents:
To fully welcome the season, add autumn-inspired touches all around your home. For your dining table, place Kashmiri papier-mâché trays filled with dried leaves from the fall, pinecones, and candles as decorations. Instead of the summery floral arrangements, opt for bouquets of marigolds and chrysanthemums in traditional Kashmiri vases to give your home that cosy autumn feel.
Ambient Lighting:
Change your lighting to make your space feel cosy. Replace the bright, cool-toned light bulbs with soft, warm lighting. You can also think about using candles or string lights to make your place feel warm and inviting. Hanging detailed Kashmiri lanterns or fancy brass lamps can give off a pleasant and inviting light.
Wood and Wicker Elements:
Bring in natural elements such as wood and wicker into your decor. Trade your lightweight summer furniture for sturdy wooden pieces or seating made of wicker, and decorate them with comfortable cushions and throws. These materials will add a rustic charm that fits perfectly with the autumn theme.
The process of shifting your summer home decor to an autumnal style in your Kashmiri home is an enchanting journey. It allows you to celebrate the changing seasons while embracing the rich cultural heritage of the region. By filling your space with warm colours, snug textiles, handcrafted artwork, and a hint of Kashmiri tradition, you can create an inviting retreat that captures the essence of this enchanting season. Soak in the beauty and tranquillity of autumn, right in the heart of Kashmir, all from the cosy comfort of your home. 
If you have any interior decoration questions, please feel free to contact us via our toll-free helpline or by sending a direct message on our social media platforms. You can visit any of our three home decor studios located in Nai-Basti Anantnag, along KP Road in Anantnag, and in the heart of Shopian, a prominent town in South Kashmir. We're eager to welcome you and provide dedicated assistance in achieving your home decor dreams.