The futuristic way to keep your home, belongings safe!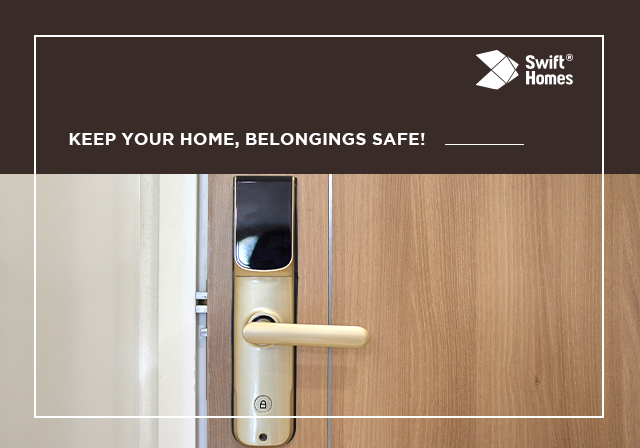 Locks have probably been around in the world since humans started to have belongings, and feared for the safety of their loved ones inside their homes. We started from simple latches in the doors, and moved on to locks.
But now, as the technology rules the roost in the world, even locks have been upgraded. The new additions to the locks are nothing we have ever seen before. The cam-locks, the finger print locks and other technologically advanced locks are straight from the future.
They are not only secure, but also give us the freedom from keeping the keys safe for the simple reason that most of these futuristic wonders are keyless. We at Swift Homes have a long tradition of including every new innovation in Home decor as well as safety to our inventory.
And this time around, as well, we did not waste any time. We have included every possible innovation in the locks segment into our inventory to keep your homes, your loved ones and your belongings safe.
This blog today is dedicated to give you a sneak peak into the locks division at Swift Homes.
Our personal favourites, when it comes to keep the homes secure, are the cam locks. They not only are unbreachable, but also give you the option to keep an eye on your home no matter where in the world you are.
All you need to do is get them installed and rest assured that your home is safe. These locks have motion detectors embedded in them and every time there is a movement around them, they will let you know. Which essentially means that you will get to know even if anyone is even coming closer to your house.
Another wonder are the fingerprint locks, which are mostly used to keep your belonginbgs safe inside your house. All you need to do is get your finger prints scanned and forget about the safety aspect, because there is no way anyone else can come even close to breaching this safety system. And you will never have to worry about keeping your keys safe!
Biometric locks are another fine invention to the list of locks that are on offer, now in this modern world. These locks can be opened and closed either with finger prints and/or the retina scan of a person using them. They also give us a key less experience and a better safety.
But as they say, old is gold, and some people still do prefer the old school locks and are averse to using technology. For them we have the mortise locks and brass locks, which are as secure as the futuristic locks.
With these old school locks however, comes an advantage of a facelift to our home decor. Brass locks and mortise locks can greatly add to the gothic, old worldly charm of our homes – much preferred by some of the people, over the modern locks.
Swift Homes, as you know, has a knack of investing in quality and that is why we have locks from only the best of the brands, including Hettich, Haefele, Link, Tunes, and some other world renowned brands of locks.
These locks are available at all of our three home decor studios – located in Nai Basti Anantnag, K P Road Anantnag and Shopain. So if you are looking for Cam-locks in Anantnag, or Biometric locks in Anantnag, or for that matter the brass locks in Anantnag there is no need to look any further than Swift Homes. We have you covered.
We would love to hear from you! Do drop by to our home decor studios and in case you do not have the time, you can just ping us on our social media handles or call us on our toll-free number. Our customer care champions will guide you through, step by step!