Swift Homes' Hot Furnishing Trends for Hot Season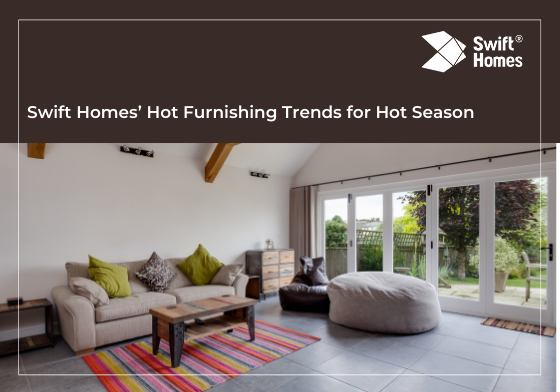 Summer can really change how things around us look. As the temperature rises and the sun graces us with its presence, the ambience around us undergoes a delightful transformation. A crucial aspect of this transformation involves selecting the right furniture that not only keeps you cool but also captures the essence of summer within your home. Replacing your heavy and snug furniture with light and breezy alternatives can effortlessly turn your home into a refreshing and welcoming retreat.
Let us explore how to create a cosy summer space that feels comfortable, looks stylish, and captures the delightful essence of sunny days.
Light and Breathable Fabrics:
Picking the right fabrics is crucial for your summer furnishings. Just as your wardrobe transitions to lightweight and breathable fabrics, so should your furniture. Replace thick curtains with lighter choices such as sheer curtains or linen panels. Think about changing heavy upholstery materials to more breathable options like cotton, linen, or bamboo. These materials help air circulate better, maintaining a cool and fresh atmosphere in your space.
Go Minimal with Furniture:
To make your place feel open and full of space, consider a more minimalist approach to furniture, by paring down excessive furniture pieces. Choose streamlined pieces with sleek and slender designs, as they create a sense of space by allowing light to flow freely underneath. Multi-functional furniture like ottomans with hidden storage can help reduce clutter. This way, your space will stay neat and nice to look at.
Incorporate Lively and Bright Colours:
Summer is all about embracing bright and vibrant colours that mimic the outdoors. Just as nature showcases its brilliance through blooming flora, your home can mirror this cheerful essence. Integrate shades of turquoise, coral, lemon, green, and aqua into your decor. Add a playful touch with colourful throw pillows and rugs adorned with patterns reminiscent of the season. These simple additions infuse life and energy into your space, capturing the essence of the season.
Embrace Natural Elements:
Summer presents an ideal opportunity to invite nature indoors by incorporating materials like wicker, rattan, and wood into your furnishings. Whether it's rattan or wicker chairs or wooden coffee tables, these elements not only bring the outdoors in but also establish a relaxed and breezy atmosphere, aligning perfectly with the season.
Further, enhance the natural appeal by introducing indoor plants, such as palms, succulents, and snake plants, which thrive in bright yet indirect sunlight. These plants not only imbue your space with vitality but also enhance air quality and contribute to a cooler environment. Put them near windows or in corners, and try different sizes and types. These plants help you feel connected to nature and make your room look more alive and fresh, which is great for summer.
Invest in Outdoor Furnishings:
Maximise your living area by introducing outdoor furniture to your space. It could be for a small balcony or a big garden. Choose a material like aluminium, teak, or all-weather wicker that can withstand various weather conditions in Kashmir. Create a serene outdoor lounge with cosy seating options and provide shade through umbrellas or pergolas. This extension of your living space offers a comfortable sanctuary for relaxation and enjoyment.
Prioritise Openness and Airiness:
Irrespective of your design aesthetic, prioritise an uncluttered and open layout. Arrange your furnishings in a way that facilitates natural air circulation, allowing fresh breezes to traverse your space. By increasing the distance between pieces, you ensure that the atmosphere remains light and breezy, preventing the space from feeling stuffy.
Giving your home a summer makeover with the right furnishings can refresh your living area and make you feel happier. If you choose light fabrics, bright colours, and natural materials while keeping things simple, you can create a cosy and inviting place that resonates with the season's vibe. So, prepare to welcome the sun, warmth, and relaxed atmosphere by adding furnishings that bring a fresh energy into your home.
Feel free to get in touch with us today to discover the diverse range of services we provide. Should you have any questions pertaining to interior decoration, please feel no hesitation in reaching out via our toll-free helpline or by sending a direct message through our social media channels. You'll find our three home decor studios situated in Nai-Basti Anantnag, along KP Road in Anantnag, and in the heart of Shopian, a key town in South Kashmir. We would be delighted to extend our warmest welcome to you and offer our dedicated assistance in fulfilling your home decor aspirations.