Optimizing Space in Style with a Le Mans Corner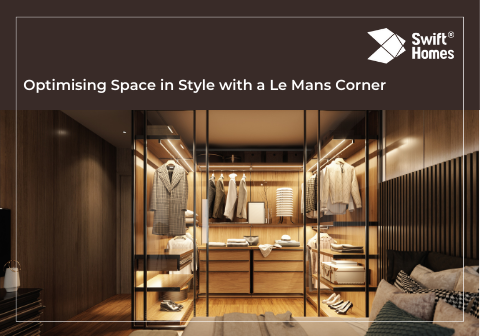 Are you making the most of your wardrobe space in your beautiful Kashmiri home? How often do we overlook the corners in our closets, leaving them unused and wasted?
Are you tired of dealing with cluttered closets?
If you have been searching for a way to optimize your wardrobe space without compromising on style, look no further! In this blog, we will explore the advantages of incorporating a Le Mans Corner into your wardrobe design. 
From revolutionizing storage solutions to adding a touch of elegance, Swift Homes transforms your space and elevates your style by incorporating extendable storage in the blind corners.
Let's explore the numerous benefits that come with utilizing a Le Mans Corner
Utilizing Every Inch of Space:
With Le Mans Corner Storage, you can reclaim neglected areas and transform them into valuable storage spaces. The curved shelves and rotating mechanisms enable easy access to clothing, accessories, kitchen utensils, and more, ensuring that no corner goes to waste. Say goodbye to those unused nooks and crannies!
Streamlined and Efficient Organisation:
Gone are the days of sifting through disorganized closets. With a Le Mans Corner wardrobe, the organization becomes a breeze. The cleverly designed rotating mechanism allows you to access anything with ease, eliminating the frustration of hidden or unreachable items. This streamlined organization not only saves you time but also promotes a sense of calm and orderliness in your daily routine.
Customization Options:
Swift Homes understand the importance of flexibility and customization in interior design. That's why our Le Mans Corner units offer a wide range of customization options to suit your specific needs and preferences. You can personalize the interior configurations by adding specialized compartments or incorporating built-in lighting to enhance visibility. We provide tailored solutions to match your unique style and storage requirements.
High Load Capacity:
With a Le Mans Corner wardrobe, you can rest assured that each individual shelf can easily bear a significant load of up to 25 kg. This robust construction ensures that you can store your belongings without worrying about the stability and durability of the unit. Enjoy peace of mind knowing that your wardrobe can handle the weight.
Do not let valuable space go to waste in your wardrobe. Embrace the advantages of a Le Mans Corner wardrobe and unlock the full potential of your storage solutions. By incorporating this innovative design concept, you can optimize space while adding a touch of elegance to your space. With customizable options to suit your individual needs, a Le Mans Corner wardrobe proves to be a smart investment that can transform your organization and elevate your interior design to new heights. So, gear up and revamp your space with a Le Mans Corner that combines space optimization with impeccable style.
Feel free to get in touch with us to discover the diverse range of services we provide and embark on an exciting journey to find the ideal addition to your home. If you have any questions or require further information about Le Mans Corner, don't hesitate to contact us through our phone number or by sending us a direct message on our social media channels. We have three home decor studios located in Nai-Basti Anantnag, along KP Road in Anantnag, and in the main town of Shopian of South Kashmir. We would be delighted to welcome you and offer our assistance with all your home decor needs.