Locks and Security solutions by Swift Homes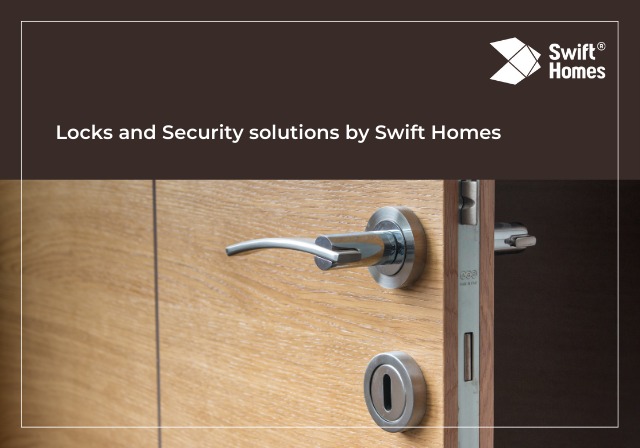 Safety is the first thing we all want as it is a basic human need. Keeping this thing in mind we at Swift Homes have brought to you high-end security solutions in the form of locks. Locks are essential for ensuring the safety and security of our homes, businesses and personal belongings. They provide a sense of control and privacy that is necessary for us to feel safe and secure. By securing our doors with locks, we create an obstacle that can deter potential intruders. Moreover, locks are essential for maintaining the safety of individuals.
We all own items that are valuable to us, whether they are expensive jewellery, important documents or any other items. It's important that we keep these items secure and locks provide us with the means to do so. Different types of locks can be used to secure our valuables, ensuring that they remain safe and protected.
Whether we are securing our homes, protecting our valuables or maintaining privacy, locks play a crucial role in our daily lives. As such, we at Swift Homes feel that it's important to invest in high-quality locks that are reliable and can withstand potential threats.
In this blog, we will enlighten you about some of the high-end security locks available at Swift Homes that can be benefited from.
Deadbolt locks:
Deadbolt locks are considered to be secure locks that are difficult to open without a key. Deadbolts are commonly used on exterior doors because they provide a high level of security against any kind of potential threat. It offers good security because it is not spring activated and cannot be jimmied open with a knife, blade or anything else. So we at Swift Homes suggest installing a deadbolt lock for your main door to keep your belongings and loved ones safe and secure.
Mortise locks:
Mortise locks are one of the most secure forms of locks available today. Mortise locks are reliable, durable and strong. These locks are meant to withstand the test of time. Mortise locks are an excellent option for doors that are frequently locked and unlocked. These locks are incredibly durable and last for decades altogether.
Electronic Locks:
Electronic locks have become popular lately for being a convenient and secure alternative to traditional mechanical locks. These locks function on advanced technology and instead of carrying around a physical key, one can simply enter a code, swipe a card or scan their fingerprint to unlock the door. Another advantage of electronic locks is that they allow a comprehensive approach to security. These locks provide a higher level of security, can also be integrated into existing security systems and offer a range of access options.
Padlocks:
Padlocks consist of a metal shackle or loop that is secured with a removable key or combination dial. They are commonly used to secure gates, doors, lockers and other items that require temporary or portable security. Padlocks come in various sizes and strengths, with some being designed to withstand harsh weather conditions or resist cutting or prying. They are a simple and versatile locking solution that can be easily used and carried out for a variety of purposes.
Investing in high-quality security locks is an effective way to safeguard your property, assets, and loved ones, while also ensuring that we can live and work in a safe and secure environment.
We are sure you have other questions regarding security solutions. Feel free to call us on our toll-free number or DM us on our social media handles. We have three home decor studios located in Nai-Basti Anantnag, along KP Road in Anantnag, and in the main town of Shopian of South Kashmir. We would love to host you.