Kitchen Chimneys by Swift Homes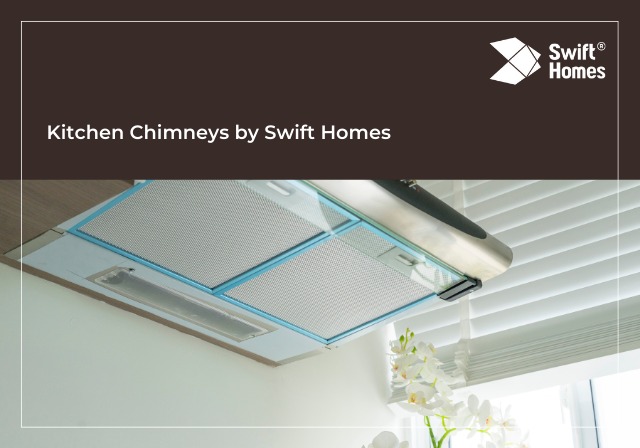 Kitchen chimneys are an important appliance that helps to maintain a clean and healthy environment in the kitchen. During cooking, a lot of heat and odors are generated, which contain grease and oil that can accumulate on kitchen surfaces and appliances. The function of kitchen chimneys is to effectively extract smoke, steam, and fumes generated during cooking thereby preventing the accumulation of harmful pollutants and ensuring the kitchen environment remains clean and hygienic.
We at Swift Homes believe that installing a kitchen chimney is a smart investment for anyone who wants to maintain a clean, healthy, and safe kitchen environment. We, at Swift Homes, offer a wide selection of styles, materials, and sizes to fit any home design and aesthetics. Our team of experts will help you find the perfect chimney that not only looks great but also functions efficiently.
In today's blog, we will talk about some of the best Kitchen Chimneys available at Swift Homes 
Kaff kitchen Chimneys
Kaff kitchen chimneys are known for high suction power, noiseless operation, and attractive design, making them the first choice for homeowners. These chimneys are designed in line with the latest technology that can effectively purify the air and ventilate our kitchen while cooking. It is also equipped with an oil collector, a double ball bearing system, and dual vent suction. Available in materials like stainless steel, tempered glass, and black finish, these chimneys can add to the aesthetics of your home.
Hafele Kitchen Chimneys
Hafele kitchen chimneys are known for their sleek and modern designs that can complement kitchen decor. These chimneys have high suction power to cater to different kitchen sizes and needs. Hafele chimneys are equipped with different filters that help to remove grease, smoke, and odor from the kitchen. The auto-clean mechanism of these chimneys uses heat to clean the filters thus making maintenance easier. Hafele kitchen chimneys come with a warranty of 1 to 5 years depending on the model.
Elica Kitchen Chimneys
Elica chimneys offer a combination of advanced features, efficient performance, and stylish design that makes them one of the best chimneys available in the market. The chimneys are energy-efficient and consume less power, making them eco-friendly. These chimneys operate quietly, ensuring a peaceful cooking environment. Elica chimneys come with auto-clean technology that makes maintenance and cleaning easy and hassle-free.
Bosh Kitchen Chimneys
Bosch is a leading brand when it comes to kitchen appliances and their chimneys are no exception. Bosch chimneys are designed to offer more comprehensive coverage and ideal suction for all kinds of kitchens, with copper winding & highly efficient filters. The stainless steel body ensures durability, while the push-button controls make it easy to operate. Bosch is a great option for those looking for an affordable and high-quality chimney. 
Faber 3D + Hoods Kitchen Chimney.
Faber is a trustable brand worldwide for Kitchen Chimneys that meets the both practical and aesthetic needs of customers. These chimneys have higher suction technology to keep the kitchen odor-free and smoke-free during every cooking session. These chimneys are also equipped with an oil collector and auto-clean technology. These chimneys have minimalist control that makes them easy to operate. The finishing of Faber Chimneys is aesthetically attractive which enhances the overall look of your kitchen.
Get in touch with us today to discover more about our diverse range of Kitchen Chimney options and begin your journey of exploring the perfect fit for your home. Feel free to call us on our toll-free number or DM us on our social media handles. We have three home decor studios located in Nai-Basti Anantnag, along KP Road in Anantnag, and in the main town of Shopian of South Kashmir. We would love to host you.