How to take care of your Wood flooring in Kashmir!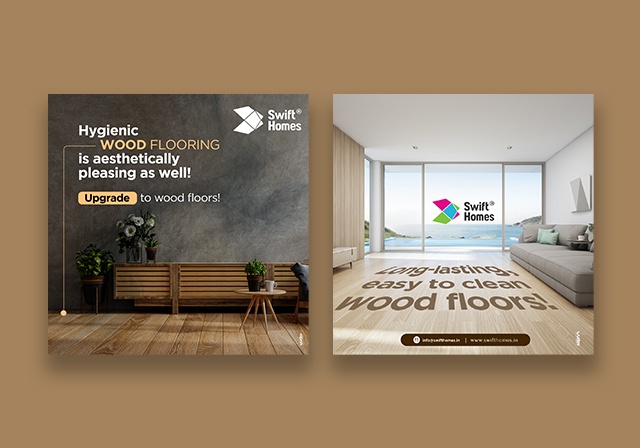 Swift Homes has been the first Home Decor solutions network in South Kashmir, Anantnag in particular, which has introduced wood flooring as a genuine alternative to heavy, tough to manage carpets. 
Over the years, Swift Homes has emerged as the leading provider of Wood floors in Anantnag and in South Kashmir. Be it AC 3 Wood Flooring, AC 4 Wood Flooring, AC 5 Wood Flooring, Maple Wood Flooring, Hard Wood Flooring, Green Panel Wood Flooring, Dar Walnut Laminate Wood Flooring, or for that matter any other type of wood flooring, Swift Homes has the widest range available from the best of the brands in the market.
We not only supply the wood floors to any part of Kashmir, particularly Anantnag, Shopian, and other parts of South Kashmir, but we also ensure that the wood floors are installed by the best of the craftsmen in the business.
Our skilled workers have immense expertise in installing wood floors in a way that there is almost no wastage and the wood floors last longer.
Over the years, wood floors have emerged as the best alternatives to carpets for being long-lasting, while adding some old-world charm to our living spaces. However, we need to take care of the wood floors, and this blog is actually dedicated to how we can make our wood floors last longer even in the harsh winters of Kashmir.
We will explain the process in some quick steps here.
Clean Spills immediately: The moisture can be detrimental to the health of our wood floors, especially in the harsh winters of Kashmir. It is better to clean the spills immediately and keep the wood floors as dry as possible.
Prevent Scratches: Scratches can take away the charm of wood floors while damaging them as well. We need to prevent the scratches and the best way to do so is to use furniture pads for our room furniture. These pads on the legs of chairs and tables will prevent scratches and make the wood floors last longer.
Keep your room ventilated: As said already, moisture can make wood shrink and swell as well affecting its life. We need to keep our rooms moisture-free, and ventilation plays an important role.
Dust Regularly: The beauty of wood floors is that the dust accumulates at the surface and you can always wipe it off or use a duster on it. Keep it clean by dusting regularly if not daily.
Vacuum: We know that the dusters do not take away all of the dust and over a period of time some dust is left in the corners and other places. A vacuum clean every week or ten days will solve the issue.
Keep your heaters on pads: In winters, we tend to use heaters in our rooms and they not only scratch the surface of the wood floors but the heat as well can prove to be detrimental. A pad beneath the heater will solve both issues.
Handle your Kangri properly: Listen to your mother, who keeps telling you to handle the Kangri properly. It can damage your wood floor if it falls over!
So, these were the tips. In case you need any further information on wood floors you can visit any of our three home studios in Nai Basti Anantnag, K P Road Anantnag, and Shopian. And in case you do not have the time, you can reach us online through any of the social media platforms, or a phone call.