HOW TO PREPARE YOUR HOME FOR EID: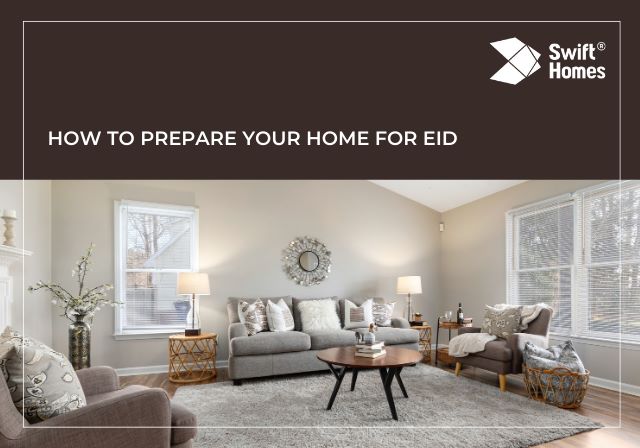 As the final days of the Muslim month of fasting draw near, with only ten days remaining until its conclusion, bidding farewell to Ramadan can be a poignant moment for many. However, the end of this holy month also heralds the arrival of Eid-ul-Fitr, the festival commemorating the spirit of kindness and generosity. As you will be visited by friends and family, you should try some ideas to enhance the beauty and ambience of your home.
Swift Homes is a leading provider of modular kitchen solutions in South Kashmir, specifically in Anantnag. Swift Homes provide options that seamlessly integrate with various home decor styles and lifestyles. Swift Homes understand the importance of customization and tailoring their solutions to meet the unique requirements of each customer. With our diverse designs, customization options and professional services, Swift Homes is a trusted choice for upgrading any living space in the region.
To ensure your home is ready for this joyous occasion, here are some suggestions from Swift Homes for preparing for the upcoming festival of Eid.
Cleaning:
A clean home is a presentable home. It involves thorough cleaning and organising of the house since Eid involves a lot of cooking which is why it is important to make your modular kitchen ready for some heavy Eid cooking. Deep cleaning your kitchen, dining areas and pantry not only ensures a clean and hygienic environment for cooking and dining but also creates an inviting atmosphere for your family to enjoy delicious meals and cherished moments together.
Upgrading your living room:
Changing the colour of your walls can have a significant impact on your living room decor. You can add wallpaper with an interesting pattern or texture. We at Swift Homes have a wide range of wallpapers you can choose from. You can also rearrange your furniture to create a more functional and visually appealing space.
Upgrading your Kitchen:
Timely repairing the kitchen with modern and stylish hardware is a great idea. It's a relatively affordable and easy way to upgrade your kitchen's appearance. Also updating your kitchen appliances not only improves their functionality but also enhances the overall look of your kitchen. Replacing old appliances with new ones that are more energy-efficient, and sleek in design can add to the functionality of the kitchen. Furthermore keeping your kitchen organized and clutter-free greatly improve its functionality and appearance
Bring out your crockery and cutlery:
Serving food in beautiful crockery and clean cutlery enhances the experience of guests, making them feel valued and appreciated. The use of elegant and well-maintained crockery and cutlery adds to the aesthetic appeal of the table making the dining experience memorable and enjoyable for all.
Upgrade the soft furnishing:
Upgrading soft furnishings for Eid can be a wonderful way to refresh your home and create a festive atmosphere. Consider replacing your old cushion covers with new ones that feature vibrant colours, rich textures, and intricate patterns. Consider changing to curtains or drapes in rich, bright-toned colours or with ornate patterns that add a touch of elegance and opulence to your home for Eid.
If you have any other ideas related to the Eid preparations or have any queries about our services, you can reach us through our social media handles or the toll-free number. Or, you can visit our home decor studios located in Nai Basti Anantnag, K.P Road in Anantnag and Shopian town of South Kashmir. We will be really glad to assist you!