Home Interior
Feb 17, 2023
Designing a room for children with Swift Homes.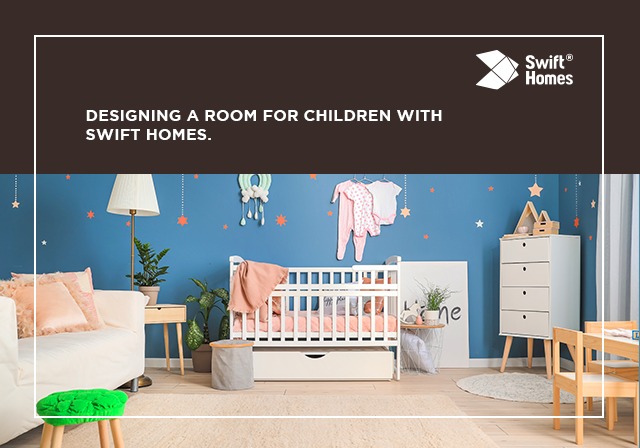 The bedroom isn't just a place to sleep if you are designing it for a child, it should be versatile and multi-functional, giving them room to play, learn, relax and grow. However, it can be challenging to create a space that meets the needs of the child and the parent's desire for aesthetics.

While designing the kid's room, it is important to keep in mind that as the kid grows older, the room should grow too in terms of complexity and character. It must accommodate the child's growth and change in interest.

We at Swift Homes believe that our three-decade expertise in home decor should be of immense help to anyone and everyone who is keen to keep their homes in order and well organized. We at Swift Homes have come up with some important things to consider when designing your children's room.

Safety is the top priority for all of us when it comes to our children. Parents need to ensure that the design of the room is safe for their children. This includes ensuring that the furniture, decorations and materials used in the room are non-toxic, sturdy, and without any sharp edges. It is also important to ensure that the room is well-ventilated and that lighting is appropriate for the child's age.

Once safety is ensured, it is important to consider the functionality of the room. A child's room must serve many purposes, such as sleeping, playing, learning and storage. The room must be able to accommodate all of these activities while remaining organized and uncluttered.

Storage is particularly important in a child's room, as kids often have a lot of toys, clothes and other belongings. The design of the room must take into account storage solutions that are easy for the child to access and use, such as shelves, bins and hooks. Parents can also get creative with storage solutions by using multifunctional furniture such as beds with built-in storage or benches with hidden compartments.
The design of the room should also take into account the child's interests and hobbies. Kids have their own unique personalities and their room should reflect their individuality. While choosing furniture for the room, opt for unique and subtle pieces that blend in with the overall decor of the room. Also, we at Swift Homes suggest avoiding cluttering the room with too many pieces of furniture and choosing items based on their functionality.

Designing a space for children that is both fun and functional requires careful planning and consideration. By following these tips, you can create a space that is enjoyable for children while also being practical and functional.
We are sure you have other ideas and tips regarding bedroom designs for children. Feel free to call us on our toll-free number or DM us on our social media handles. We have three home decor studios located in Nai-Basti Anantnag, along KP Road in Anantnag, and in the main town of Shopian of South Kashmir. We would love to host you.