Home Interior
Feb 10, 2023
Choosing the right material finish for your Wardrobe: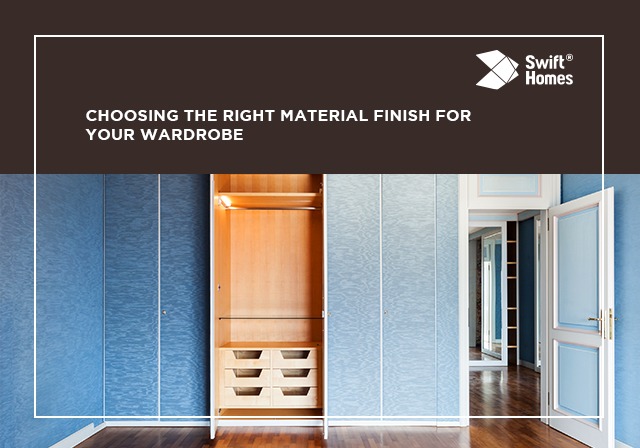 While designing a wardrobe we take utmost care of its functionality but how often do we care for the aesthetics and appearance of these wardrobes? The design, colours and finishes of your wardrobes can significantly add to the decor of your room. Today there are many options available in materials and finishes with distinct textures and appearances. We at Swift Homes have come up with a piece of comprehensive information regarding some surface finishes that could make choosing a little easier for you.
Veneer:
Veneer is a thin slice of hardwood sheet that is applied to the surface of a piece of furniture, such as a cabinet or wardrobe, to give it a more expensive or exotic look. Veneers are commonly used in interior designing and woodworking to create a desired appearance and texture.
Veneers are widely used as an external finish because they have the ability to impart a look that's both traditional and modern. If you like the natural warmth of solid wood then the veneer is the best option for you. Veneers are made from thin layers of natural wood. Available in various designs veneer adds an element of warmth, elegance and richness to the space where it is used. It can be polished and finished just like solid wood.
Laminates:
Laminates refer to the synthetic finishing material used on the surfaces of wardrobes and cabinets. These laminates are comprised of multiple layers of materials like melamine resin and fibre board to provide a decorative finish that is both durable and easy to clean.
Laminates are the most commonly used wardrobe material and are available in an array of finishes, colours and patterns. Laminates are highly durable, water-resistant, cost-effective and low-maintenance, besides being easy to clean. There are many options to choose from, in terms of designs, colours and finishes, which include high-gloss, textured and matte finishes that are best suited for both traditional as well as modern home designs. Laminate adds a sense of elegance and luxury to your room by adding brightness because of its ability to reflect some light. Laminates are easy to maintain for they can be cleaned with a soft cloth and water or soap. Since laminates are brittle they are prone to chipping and once damaged cannot be repaired.
Glass:
Adding glass to the wardrobe door panel instead of conventional solid wooden door material brings a sense of luxury and elegance to your space. The glossy finish of the glass gives a sleek and modern look to your room. Glass panels come in various options like frosted, tinted, plain and lacquered which can add to the overall aesthetics of your home.
Mirror :
Mirrored wardrobes are the perfect choice for smaller bedrooms because they visually increase the size of the room and create an illusion that makes it appear much larger than it is. Mirror-clad wardrobes are usually heavy therefore it is important to use only good-quality hinges or channels for the sliding doors to ensure hassle-free usage of these wardrobes. Mirrored wardrobes are a smart and contemporary option that combines aesthetics with functionality while reflecting your excellent design sensibilities.
In case you need any more information regarding the material finishes of wardrobes or kitchen cabinets, you can reach us through our social media handles and/or our toll-free number. Our customer care executives will be pleased to help you. We look forward to you visiting our home decor studios!