Home Interior
Jul 05, 2023
5 reasons you should choose wooden wall panelling for your modern Kashmiri home!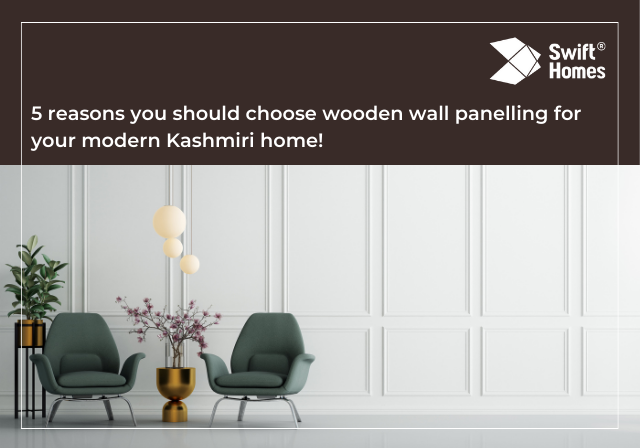 A cozy home nestled in the valley or a contemporary urban apartment, wooden wall panelling is one such traditional architectural element that adds a touch of elegance, warmth, and authenticity to modern Kashmiri interiors.
All of us have our own reasons to choose a particular decor statement for our homes, and every reason is as valid as the other one. However, Swift Homes being a pioneer when it comes to wooden panelling, we have some technically sound reasons to put across.
In today's blog we are going to enlist five major reasons for you to be able to choose your wood panelling without any second thoughts.
Warmth:  In the chilly climate of Kashmir, wooden wall panelling offers excellent thermal insulation, as wood possesses innate heat retention properties, creating a cozy and comfortable environment in your home. Moreover, this valuable attribute promotes energy efficiency by minimising the need for excessive heating.
Durability and Longevity: Wood is a durable material that can withstand the test of time. By choosing wooden wall panelling, you invest in a long-lasting solution for your home. With proper maintenance, wooden panels can retain their beauty for generations, making them a sustainable and practical choice for your home decor.
Hygienic and Allergen-Friendly: Wood has natural antimicrobial properties, which makes it a clean and healthy option for your home. Unlike other wall materials that can harbour dust, allergens, and mold, wooden panelling is easier to clean and take care of. It creates a safer and healthier indoor space, especially beneficial for individuals with allergies or respiratory sensitivities. Situated in the scenic South Kashmir district of Anantnag, Swift Homes commitment is to create homes that are not only visually stunning but also provide utmost comfort and reflect our clients' unique personal style and preferences.
Low Maintenance and Economical: Wooden wall panelling has the benefit of being low maintenance. Unlike painted walls that may need frequent touch-ups to maintain their appearance, wooden panels generally need minimal upkeep. One reason for this is that wooden panels are more durable and resistant to wear and tear compared to painted walls. Furthermore, wooden panels do not require painting at all, this saves you both time and money in the long term. These savings can accumulate over time, making wooden panelling a cost-effective choice for your home.
Easy Installation : Wooden wall panelling offers a remarkable advantage when it comes to installation, The availability of modern interlocking systems and adhesive options further amplifies this benefit, allowing for a quick and efficient installation process. This not only saves valuable time but also reduces the effort and labour required. Swift Homes is committed to keeping up with the latest construction methods and techniques. They stay informed about industry advancements and trends to ensure their projects are built using innovative and efficient methods.
There is no denying in the fact that wood panels offer a well-rounded solution for transforming your walls into stunning focal points, all of which contribute to enhancing your space. The architectural practice of integrating wooden wall panelling into your home decor, not only enhances the aesthetic appeal of the houses but also captures the essence of Kashmir's rich cultural identity. With Swift Homes leading the way in design and customization, you can truly transform your house into a home that reflects your unique style.
Contact us now to learn more about the wide array of services we offer and begin your journey of exploring the perfect addition for your home. Should you have any inquiries concerning wall panelling, don't hesitate to reach out to us via our toll-free number or by sending a direct message on our social media platforms. We have three home decor studios located in Nai-Basti Anantnag, along KP Road in Anantnag, and in the main town of Shopian of South Kashmir. It would be our pleasure to welcome you and assist you with your home decor needs.