5 MUST HAVE KITCHEN APPLIANCES BY SWIFT HOMES: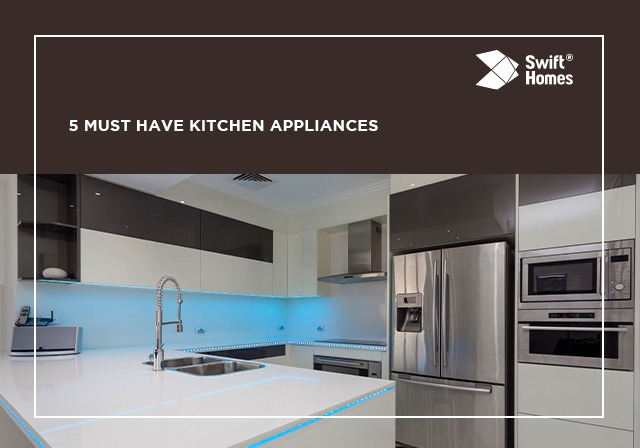 Each home has its own way of cooking and the use of right kitchen appliances makes cooking time fun and convenient. It is our constant endeavour at Swift Homes to understand your needs and help you find the products that are best suited to your lifestyle.Here are some must have appliances in your homes.
COOKTOP:
Kitchen becomes an interesting and enjoyable experience when good quality appliances are installed. Built-in hobs have made their way to the modern kitchen with the ergonomically designed easy grip knobs,auto ignition that makes it premium. Anyone who is looking for premium built- in hobs will get multiple options under one roof. The magnificent range of these gas cooktops are equipped with high end features like energy efficient brass burners with full FFD for utmost safety. These cooktops are available in hard glass top as well as metal tops. Glass tops are also available in floral designs as well as in various designs and sizes.
MICROWAVE :
Swift Homes have a wide range of microwave ovens from the top brands,that are not only convenient to use but are energy efficient as well.From cooking food to just warming it up and defrosting it, microwave oven does it all at just the push of a button.Our microwaves will change the way you cook and make your life easier.Upgrade your cooking method with the best microwaves.
CHIMNEY:
Swift Homes bring in the most incredible chimneys to suit your style of cooking. At Swift Homes you will come across the stylish and premium kitchen chimneys in varying sizes and prices to meet the needs of one and all. You can buy kitchen chimneys from the best of the brands like Bosch, Elica, FABER, Glen, Hindware, Kaff, prestige and so on offering quality products at the best price range.When looking for a chimney, you need to keep few things into consideration such as chimney suction power, chimney size, chimney design and chimney ducting in order to get the best appliance for your kitchen. So invest in the right kind of chimney and buy superior quality kitchen chimneys & cook food happily.
Dishwasher:
Dishwashers are savours in terms of saving time and keeping utensils and cutlery. Nowadays dishwashers have become a necessity in every home.Dishwashers are smart and efficient at saving both water and electricity. They can save up to 40 litres of water per cycle and use as little as 300 kWh per year.Swift Homes has been the first Home Solutions group in Kashmir to have introduced this much-needed home appliance. We have been delivering the most innovative dishwashers to people across Kashmir, particularly in the Southern part. You deserve to eat hygienic food and it begins with a squeaky clean kitchen appliance. What are you waiting for ?Go check our wide range of dishwashers from the best of the brands.
SINKS
From cleaning dishes to rinsing vegetables, kitchen sinks come with a lot of utility, which is why ours are designed to be practical and long- lasting. Depending on your needs you can either pick a single or two-bowl sink.With a range of innovative and modern designs our sinks fit every type of kitchen scheme. Our kitchen sink inventory is endless that includes sleek, stainless steel, super-durable composite and scratch resistant sinks.
In case you need any more information regarding these kitchen appliances, you can reach us through our social media handles and/or our toll-free number. Our customer care executives will be pleased to help you. We look forward to you visiting our home decor studios!